Sumner Steps
Sumner Furniture and Design is a full-service furniture supply store and interior design firm that specializes in new and pre-owned furniture for office spaces. We are located in Sterling, Virginia and proudly serve the DMV area, including Delaware, Maryland, Virginia, and Washington D.C.
The Sumner Steps attest to a nine-step process that attests to our success. Delivered with flexibility and timeliness, these steps are a proven route towards quality and satisfaction. By highlighting expertise and examination, our methodology shows we are leaders in the industry. We work with you throughout the entire process. That's why our first step is understanding what you want, thus putting ourselves in your shoes.
Here are the nine steps we abide by:
Understand what you, the client, wants.
Find your budget, and explore your space as well as the many brands Sumner offers to select the best new and pre-owned furniture for you. We can work within every budget to make your interior idea a reality.
Create a floor plan and design customized to your space and vision.
Price out everything with a focus on value and brand agnostic principles.
Test chairs and other furniture to ensure stability, durability, and safety.
Close the deal.
Order the correct furniture for your interior renovation.
Inspect the furniture for stability, durability, and safety before moving to installation by the experts who make up the Sumner team.
Warrant the furniture for utmost protection and insurance. We stand behind the high quality of our products and manufacturers.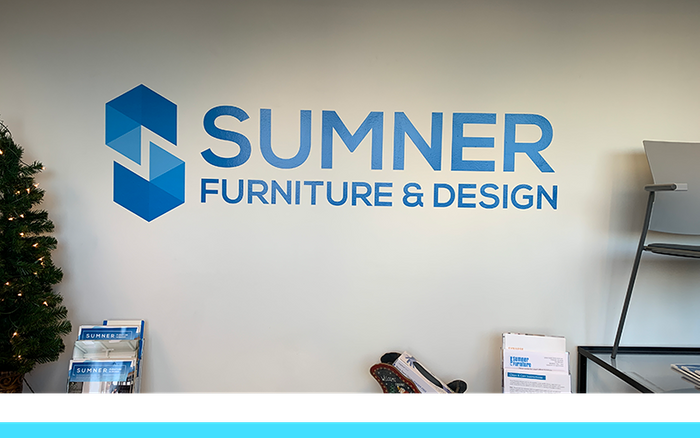 Ready To Get Started?
With nearly ten years of experience designing and building furniture as well as providing premier relocation, decommission, and more, Sumner can meet your needs and overcome any obstacles. By following the Sumner Steps, we establish that every detail is taken care of. Our collaborative approach pays attention to your needs, desires, and vision. We'll work side by side with you to create a perfectly designed and furnished space uniquely customized for your office culture. We love what we do for our clients, and we treat every project with care and dedication, so let us. Contact us today!