what we offer
Located in Sterling, Virginia, Sumner Furniture and Design has the expertise and experience you need to renovate your healthcare facility. Such healthcare spaces include hospitals, doctor's offices, pharmaceuticals, and more. We understand these types of environments require flexibility to adapt with expansions and technological advancements. Modular casework is a great option for healthcare spaces. Read more about our modular casework manufacturers.
We know safety is crucial for healthcare spaces as well. Our thoughtful design plans will ensure durability and functionality to reduce the risk of injury and increase the safety of all staff, patients, and guests. Proper cleanability is a key component of healthcare environments, so we'll be sure to provide a seamless and cleanable atmosphere. Our team will understand what you're looking for and make suggestions for the best adaptability, safety, and cleanability for your value.
We also offer office redesign for updated COVID-19 policies. Our interior designers would love to help reconfigure your current office space to set you up for optimal health and safety as we all adjust to new standards. Our expert installers are ready to provide creative, customized solutions for your workspace, school, restaurant, or any size office.
Sumner works with trusted manufacturers and has full access to all the new safety products hitting the market in response to COVID-19. We now offer sneeze guards, acrylic screens, floor to ceiling room, partitions, cubicle partitions, and creative custom solutions to help you return to work safer and sooner. Get in touch with our team of designers and installers in Sterling, Virginia so we can come up with a solution tailored to the needs of your healthcare facility or space.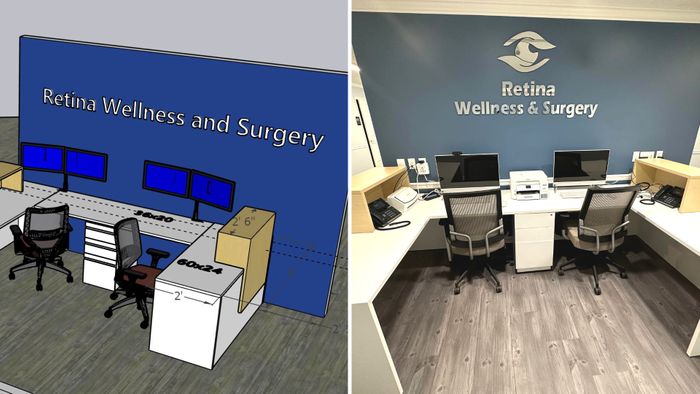 From Design To Delivery
Sumner Furniture & Design works with your healthcare practice or facility from start to finish. Our experienced team can provide you with the insight and ideas to create a beautiful and efficient workplace. We can help you create your vision or get a designer to help build one.
This particular reception desk for Retina Wellness and Surgery was designed by John Morris. Contact us today to speak with our furniture consultants and designers!