Sumner Furniture & Design doesn't just sell new and used office furniture, we also offer expert workspace interior design assistance to create custom workspaces. Our team of talented interior designers will help you create a beautiful, modern, and budget-friendly office interior design plan.
re-imagine your space
If you're looking for a stunning interior makeover, then look no further than Sumner Furniture and Design in DC, Maryland, and Virginia. Our interior design strategies are adapted to the architecture of your space while incorporating a sustainable, functional strategy. Workspace interior design is a key aspect of creating a functional and productive environment for employees. By re-imagining your space, you can create a more efficient and comfortable work environment that will help boost employee morale, productivity, and creativity.
Sumner Furniture and Design specializes in designing and renovating workspaces in the DC, Maryland, and Virginia areas. We understand the importance of creating a space that is both sustainable and functional, and we work with clients to understand their needs and goals, and then develop a workspace interior design strategy.
When reimagining a workspace, our expert office interior designers consider factors such as ergonomics, lighting, and acoustics to create a comfortable and productive environment. They also incorporate sustainable design elements to reduce energy consumption and increase the overall efficiency of the space.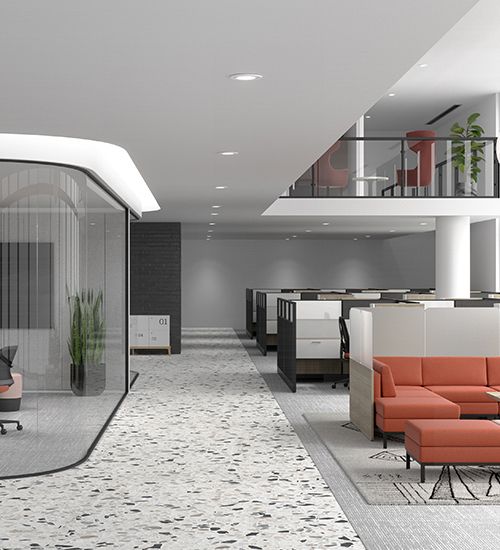 customized to you
Workspace interior design is an essential element in creating a functional, productive, and visually pleasing environment for employees. The process of designing a workspace involves multiple steps and decisions, and it can be challenging to navigate on your own. That's where a company like Sumner Furniture and Design comes in.
We can revamp pre-owned furniture to fit your space, and help you pick out fabrics, paints, finishes, decor, signage, layouts, plants & greenery, and more. We will guide you through every single aspect of designing your office space. Our detail-oriented approach will bring your vision to reality.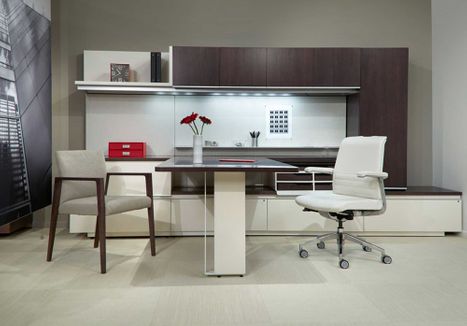 One of the key ways Sumner Furniture and Design can help you revamp the interior design of your workspace on a budget is by providing pre-owned furniture solutions. We understand that not every business has the budget to purchase brand-new furniture, so we offer cost-effective options by sourcing pre-owned furniture and revamping it to fit the design and layout of your office space.
Our team of seasoned custom office interior designers will work with you to pick out fabrics, paints, finishes, decor, signage, layouts, plants & greenery, and more to create a cohesive and visually pleasing design. We understand that every business is unique, and they will tailor their approach to meet your specific needs and vision.
One of the most significant advantages of working with Sumner Furniture and Design is that we know the ins and outs of every aspect of office interior design. Our detail-oriented approach ensures that every element of the design is cohesive and functional. Whether you are looking for a modern and sleek design or a more traditional and elegant look, our interior design team will work with you to create the perfect design for your workspace.
3D Mock-Ups
When designing your custom workspace, our team frequently utilizes 3D renderings to assist in visualization and planning. This allows our team to account for important factors such as foot-traffic flow, interior lighting, ventilation, and collaborative spaces. Whether you need interior design ideas for a coworking space or waiting rooms, Sumner Furniture and Design has you covered with advanced interior design visual modeling.
Sumner Furniture and Design is an expert in creating modern and sleek interiors, with high-quality and durable materials that will withstand the demands of the workspace and last for a long time. We also have a wide range of furniture and design options to choose from, so you can find the perfect style for your space. Our range of pre-owned office furniture is perfect for business owners looking to redesign their workspace on a budget.
Ready To Get Started?
Our team is ready to help you find the right office furniture for your workspace. We can accommodate projects of all types and sizes at Sumner Furniture and Design, and we'll be there every step of the way to make adjustments as needed. Contact us today to speak with one of our consultants to get your project started today!